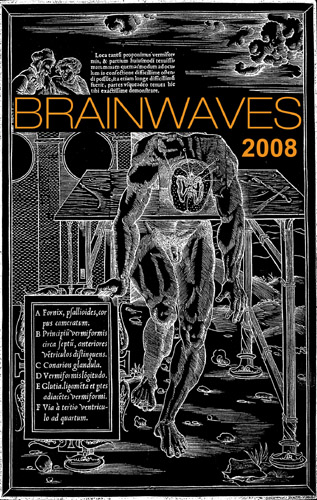 Please visit our sponsors
Brainwaves is made possible with help from sponsorships, donations, and support from individuals like you. Please take the time to visit our sponsors and thank them for helping making this year's festival a reality.
Brainwaves 2008, Boston, MA
The following is the schedule of performers. Set times and order will not be posted until the day of the event. Be sure to arrive when doors open to find runnning order and set time schedule.
Note: DJ Steven Stapleton will be spinning between sets all weekend long.
Friday, November 21, 2008 - doors at 7pm, music begins at 8pm
Meat Beat Manifesto
Silver Apples
JG Thirlwell's Manorexia
Marissa Nadler
& a special Greater Than One video presentation
Saturday, November 22, 2008 - doors at noon, music begins at 1pm
His Name Is Alive
Gary Wilson
Rivulets feat. Jessica Bailiff
Major Stars
Nmperign feat. Jason Lescalleet
Glenn Jones
Saturday, November 22, 2008 - doors at 7pm, music begins at 8pm
Matmos
Threshold HouseBoys Choir
Little Annie
Reformed Faction (Mark and Robin of Zoviet France, Rapoon, Dead Voices On Air)
Andrew Liles & Jonathan Coleclough
Sunday, November 23, 2008 - doors at noon, music begins at 1pm
Stars of the Lid
To Kill A Petty Bourgeoisie
Boduf Songs
Lichens
Nudge
Strategy
Windy Weber (of Windy & Carl) & Thomas Meluch (of Benoit Pioulard)
Ticketing
Ticket prices are once again $75 + $4 in theatre/processing fees and can be bought directly from Brainwashed in the Commerce section.
Tickets will be held in your name at the box office unles you explicitly state that you want your tickets to be mailed to you. We cannot be responsible for tickets lost in the mail, however.
Ticket prices for the day passes is as follows and will only be available direct from the Regent Theatre:
Friday, November 21st, 2008: $20
Saturday, November 22nd, 2008: $45
Sunday, November 23rd, 2008: $20
(restoration and online transaction fees are NOT included in this price)

Cameras/Photos
Video cameras aren't allowed but photos are welcome so long as you aren't using flashes and blinding our performers!
Food/Drink
Regent Theatre policy is that there is no outside food or drink allowed inside the theatre, however, there are plenty of neighborhood options and a concession stand. Beer and wine might be sold this year. Keep your fingers crossed.
Brainwaves In the News